MLS Photograph Navigation: / site map / tutorial / contact us
---
Art 2009
---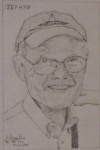 Sketch
D Reagan Rice, March 2009 - photo (avg quality image) or scan (better quality image). This sketch was made from a photo taken in July, 2008.

Dave Rice - scanned image, sketched from a photo taken in July 2008.

Phil Rice - self portrait - scanned image, sketched from a photo taken Feb 2009.

Vincent Van Gogh, sketch of an old man in a tail-coat done in 1882 - actual dimensions 19.5 in x 10 in. Same thing front view. The Van Gogh - my copy at actual size, my copy at smaller size (8 x 4.5) currently hanging in my bathroom.



---

Oil Painting
As of 3/22/09 I have 2 oil paintings in progress.
When I first saw the famous painting by Vermeer called "Girl with pearl earring" I was so struck by this painting I decided to make an attempt at a copy. I have completed a sketch, and started a canvas. The actual painting is (approximately) 16 x 18 inches. My canvas is the same size. I transferred the sketch to my canvass, and this is a view of the canvas after my first pass at the background. As you can see, I have a long way to go. The canvas is mounted on my home made easel - which was quite a project in its own right.
My other oil painting has a working title of "Fire Lane". This canvas is 16 x 20 (a standard size). It is a little further along, but also has a long way to go. Here is the photo I am working from.
---

Studies
First study is 2 on 1 page - an eye and a value (shading) study.
#2 = no name. 2 heads
#3 = no name 3 heads
#4 = apple
#5 = coffee mug
#6 = pear
#7 = book
#8 = eye02
#9 = another value study
#10 = eye03
#11 = apple color
#12 = eye04
#13 = generic schnoze
That's all for the studies for now - you get the idea.
---
---
MLS Photograph Navigation: / site map / tutorial / contact us
---
Page Date: Born 05/04/06 / Last Modified: 05/04/06
---